Shirt: Everlane / Jeans: Imogene + Willie / Shoes: Urban Outfitters / Number of days we had to wait for it to stop raining so we could take these photos: 5
We know I'm not that great at
beginnings
, so once again let's dive right in. I'm trying to get rid of all my shit. That part doesn't need it's own post because it's that simple. Just keep being ruthless with your closet until you're left with nothing but clothes that don't make you feel like you're fifteen and just discovered Forever 21.
What I'm
really
concerned with now is building a wardrobe that doesn't require this kind of regular pruning. I want to own simple, high quality basics that won't go out of style so I'll never need to repurchase. I keep telling myself that this will save me money in the long run (????).
I have a few pieces of clothing that are absolutely wardrobe staples, but are from not-so-great stores, have something a little off about them, or in the case of this post, was a little bit too small and then I got an ice cream stain on it. So that's when I turned to
Everlane
.
The focus of Everlane is to produce well-structured basics while being completely open about their pricing, materials and factories. For instance, this is the low-down on the
sleeveless white shirt
I bought:
I can dig it.
If you want to look into my crystal ball, here are some future search-and-replace staple purchases that will be gracing my closet soon, wallet-permitting: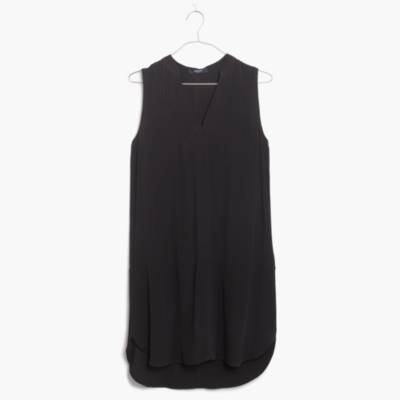 Madewell fairsky tunic dress
// $118